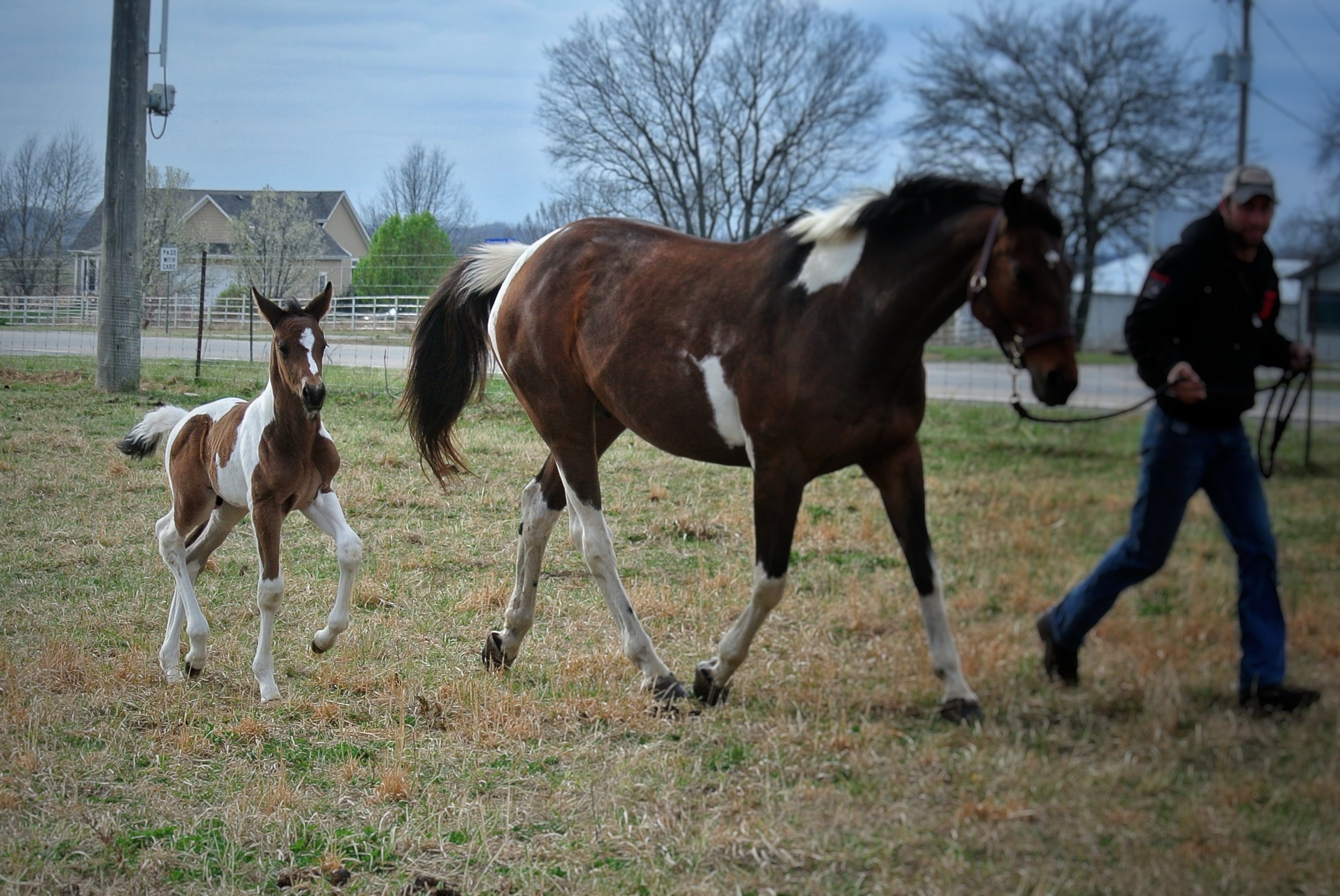 Photos of Dawn courtesy of GRC Photography, Photos of Tate copyright Shannon Brinkman.
Titan's Dream LSE- SOLD!
March 19th 2017 pinto colt by Tatendrang out of Reigning Dawn. Sold!
Full sibling expected in 2018- Colt only in utero option is now sold
 
Titan is a sweet, well mannered colt with brilliant movement and presence to match. His conformation and movement are outstanding for the Olympic Disciplines of Eventing, Dressage, and Show Jumping, and he has the bloodlines to back it up. He has fancy, correct gaits with impressive suspension, and plenty of "sitting power". At 3 months of age, Titan leads, loads, stands for grooming, fly spray, hosing, and having his feet done. He also is learning to practice tie, is wearing a saddle pad, and is occasionally ridden by the cat, while eating meals in his own stall with goats.
Titan's sire, Tatendrang is a superb eventing stallion currently competing at the 2* level and qualified for the 3* level—and moving up soon! His pedigree is stacked with exceptional competitors to stand behind his own success. Tate has a reputation for throwing easy, pleasant babies that are excelling in hunters, dressage, and of course, eventing.
Titan's dam, Reigning Dawn by Rijn Beau (Rainbow) out of Hyperion Steel, has a record of her own before a pasture injury sidelined her. She is an extremely driven, intelligent mare that has the movement for dressage, is exceptionally bold on cross country, and is extremely careful for Stadium. Both her sire and dam also competed in both Eventing and Show Jumping.
Titan has turned out to be more than we even hoped from this cross. He is very trainable, willing, and eager to please while still being brave and independent. We are looking forward to a full sibling to Titan in 2018, and will be offering Colt only in utero options.
Price includes board through one month post weaning, registration/inspection fees, microchipping, and lifetime USEF Registration.
References Avalable.
Questions? Phone: 573-808-4521
Email: joannal.russell@gmail.com